WAIF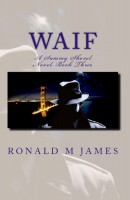 WAIF
"James is surmount with his third book in the Sammy Shovel series Waif" —Publisher's Weekly
Book Synopsis:
Peggy is shot full of holes. Sammy takes one near the neck and one in the thigh when two of his cases collide.
A waif, Zoë Hummerstein, hires Detective Sammy Shovel to solve a twenty-two year old murder that her father was accused of. Zoë made certain her makeup and clothes were chosen with care before she stepped into the private investigator's office. Sobbing, Zoë tells her story of a hit-and-run took that took place in San Francisco; not only was her father accused of murdering his wholesale liquor business competitor, but also having an affair with a woman from Oakland. Her father's young business partner, Tony Lucchesi had taken over the business and married a woman named Linda from the east coast; a New Jersey Mafioso's daughter.
Zoë knew the only way to solve the mystery was for Sammy to find the mistress and Linda.
Sammy feels the case seems straightforward and it will be simple enough to prove her father innocent. But Sammy soon learns there are things Zoë didn't tell him; her mother died six months after Linda took over the company, L&T Liquors, and the man, Tony is somehow different.
Sammy learns an astonishing truth; Linda had been paying Zoë's mother a secret monthly stipends. When her mother died, Zoë lost her cash cow.
But when the waif's case slams into another, they explode into a fantastic struggle of such magnitude that it leaves Sammy in totally dismay.
The leads will take him on a perilous journey from seemingly unrelated warehouse robberies in San Francisco to a ghastly murder in Oregon.
Like some of Sammy's other cases, Waif is filled with lies and murderous greed, but when he finds the police corruption aspect, he knows Herman Ziece, Zoë's father, was railroaded for murder. But Sammy needs proof. It came in sealed vials of DNA samples taken years before by a funeral operator. The DNA proves the extraordinary circumstances of the case. However, It almost gets him killed when he falls into a well-laid trap. Regardless of the risks, Sammy Shovel delves into every case with equal gusto—to find out why pure innocent people turns into public enemy number one.
Growing more suspicious with each—now provocative— visit from Zoë, Sammy finds her high school yearbook, and it all becomes clear and the answer was right in front of him from start.
Bullets, threats, and seduction won't stop Sammy Shovel from unraveling the truth.
About the Book
An Adventurous Night—Second Addition
"James' new book 'An Adventurous Night' is A Taut Mystery —Publisher's Weekly
Synopsis:
When Sammy Shovel sinks his teeth into a case—he gets to the bottom of it— no matter how many bullets are flying at him.
Private Investigator, Sammy Shovel, is short, slightly overweight, balding, and he dresses like San Francisco's most squalid street people. One evening at an Oakland restaurant, that he and his late partner spent their idly time by guzzling down Wild Turkey, he overhears a supposed heist falling right into his lap. Sammy foregoes dinner and jumps at the chance to make a few bucks, rather than to accept dreaded repo work again. He thought by preventing what appears to be a simple robbery from an unknown victim that he will be generously paid. However, the case turns out to be different than anything he's taken on since the death of his partner.
Rather than stopping a robbery, Sammy becomes a witness two murders in the downtown offices of John Crowder.
The events that follow are beyond his comprehension, and will change his perception of crime forever. When a single shot from inside Crowder's offices cuts down a thug with such procession, Sammy knows he's in a fight for his life.
Sammy and one of the killers, Crowder, who said it was an accident, are escorted to the Hall of Justice in handcuffs for murder. After several hours of interrogation they are released, Sammy races to prevent another senseless murder, but he's too late. He confronts John Crowder, and remembers his real name is—Knuckles Malloy—an old time gangster who trained a young innocent girl, Ruth, the illegal way to acquire wealth.
Malloy and his Asian wife, Ruth, had been importing cocaine from Hong Kong for over forty years. The brain behind the scheme became his wife.
Ruth decides to swat Sammy into the realms of the unknown. But the bullets from a swat team brings her down.
The evening's lies and maleficence excitement returns to normalcy; Sammy's stomach growls—feed the pig.
The victim may not be as evil as she seems, but rather—a casualty of circumstances.
To order book go to www.Amazon.com/books
Excerpt from the Book
CHAPTER ONE
If you want a job done properly,
It's best to do it yourself.
December 14, 1992. 6:27 PM
"Hey Guid, we's been waitin' out here for over two hours!" Bennie Falippie whined as another quiver struck him. "When's he comin' out?"
Bennie glanced over at his partner, Guido Grotte, still shivering as the damp cold embraced him. He pulled at the collar of his coat and forced it a little higher up his neck.
"How should I know?" Guido replied, aggravated at his partner's constant batter instead of keeping his eyes on the restaurant's front door. "Da boss sez we do da deed tonight, here in Chinatown. Dat's all I needs t'know—so quit askin', already."
They were waiting in a stolen car on Grant Street since 4:15 PM. It was mid-December, close to 6:30 PM, the sky was clear, there was no fog, and for San Francisco that was saying something, because it was so cold, it turned their vehicle into a real icebox. Their wait had been longer than either had expected.
Bennie glanced across the street for their prey. Another shiver climbed up his spine, and he felt his body temperature had to be close forty degrees. He knew his trigger finger could become numb. He tried to figure out a way to keep it slaughter robust—ready for the kill. He never murdered anyone in Chinatown before. He left that chore to the local Asian goons after all, he thought, it was their territory, while he claimed the rest of San Francisco as his turf.
The two of them disregarded the sounds of giggles and laughter that the Christmas season brought to happy shoppers therefore they were overlooked.
They ignored the stale Christmas decorations and halfheartedly strung lights that conflicted with mystic oriental colors. That combination made Grant Street shine like Glitter Gulch in old downtown Las Vegas. The holidays were a perfect example of how too much of more brought excitement to captivating patrons, yet were totally disregarded by these two harden criminals.
About the Book
"James rewards his fans and mystery readers with Too Beautiful For Words" —Publisher's Weekly
Book Synopsis:
Private Investigator, Sammy Shovel, finally gets the client of a lifetime and rushes to claim his jackpot, but he soon discovers—wealth and pearl coincide.
Beloved Golden Opportunities, founder and CEO, Joel Ceja, is found murdered one foggy morning.
Three months after Joel's death the police are stumped, they still have no clues in the case. Golden Opportunities' employees feel they're being stonewalled and decide to hire detective Sammy Shovel to assist the police. Meeting the Golden executive congregate, Sammy learns real wealth has money trees to burn, but they want results. His shabby clothes are no concern for they think it's part of a disguise for another case, not knowing he's bordering on destitution.
Sammy accepts the case, figuring it was nothing more than a local homicide.
However, in no time at all, he's mired in international quicksand filled with a worldwide assassination ring, and wants out of the contract.
Sammy learns that gold teeth, with the inscription R & M, are major facts in the case.
But greed overcomes his common sense, and is embroiled in a well-organized gang of hit men. He runs from firefight to firefight to get to the truth, but his adversaries dupe him time and again with lies and trickery.
In Mazatlan Sammy discovers the truth about the initials R&M, they're tied to a band of Seventeenth Century assigns, who would murder each other with any hint of betrayal.
You may deceive Sammy—some of time. But when he put's it altogether—run bother, run for we all know Sammy's a shoot first and ask questions later kind of guy.
To order the book go to www.amazon.com/books
Excerpt from the Book
CHAPTER ONE
When you need a friend,
He might find you.
April 28, 1993 – 10:16 PM
"Joel! Working late again tonight?" Donald Anderson asked happily; he wore an Armani suit that oozed success. Joel, was the fondling father of Golden Opportunities, and insisted that every employee display the habiliments of a thriving corporate business.
"You know how it is, no rest for the wicked—or the CEO's." Joel replied, glancing up and grinned. "Have a safe trip home, and give that bride of yours my love. She's a real sweetheart." He felt a frown coming on and successfully hid his fears that ominous international congeries may try to annihilate him and take over his company any second, simply because he might have unwittingly cautioned his gym's new workout partner a week ago about changing employers.
"I will, sir, but we've been married for six years." Donald said with a chuckle. "She's hardly my bride."
Donald graduated from the University of Santa Clara and had been winding his way through a tiered corporate structure. Joel dubbed him with the dubious title of vise president, as he assigned to all executive caliber employees after one year of employment.
"Son, they're all brides to me. Go home. I'll see you tomorrow." Joel said. He pushed back from his desk as Donald left. Rotated his chair and faced the window, a smile flashed across his face as he clasped his hands behind his head.
San Francisco had a special charm after warm days and Joel wanted to soak up every moment of such incredible morphing charm.
When the sun's red glair disappeared, office lights took over. The city initiated its mysterious life, especially on crisp nights. Illumination clearly identified each building, but suddenly, and without warning, fingers of dense mist slipped between tall buildings, blurring their edges and engulfed them.
Garbled images immersed throughout his senses as streetlights blinked eerily through the damp, hovering fog. Entranced, he watched automobiles plunge in and dash out of the milky soup, while garish neon signs, perpetually beckoning customers, melded together into a wild, spasmodic glimmer, until disappearing without a trace.
A tingle shot up his spine when his phone blasted out on his credenza top. He frowned before apprehensible picking up the receiver. "This is Joel; how may I help you?" He heard a familiar voice; he stiffened in anticipation of a ferine firefight. "Yes, I've—I've been expecting your call. Same place? What time?" He glanced at his Rolex. "The usual then. I understand." He replaced the receiver and continued gazing out of his revered window. He checked his watch again, then he turned abruptly back to the documents he had been laboring over on his desk. He paused for a second, now a man with destiny, he furiously re-sorted the various papers into three neat piles. He opened his desk drawer, pulled out a pad of Post-it notes and scribbled information on three of them. He stuck one note on each of the piles, and tossed the pad back into the drawer. He placed his pen back into its holder. Then arranged the three piles of papers in a consecutive row. He picked up his antique stone pyramid-shaped paperweight and rolled it over and over in one hand as a magician about to execute a sleight-of-hand trick. He grazed back toward the window, a distorted face reflected back to him, anger written around his mouth. He turned back to his desk, frowned at the hieroglyphic with symbols hewed in its surfaces, grumbled slightly, glanced at the wastebasket, but instead slammed it down exactly where it had been.